NEWS
| | |
| --- | --- |
| Irma Pane's West Coast Distributor in the U.S: For all information about Distributions and Promotions of my new album "Haruskah", please contact : | |
| | |
Irma Pane Volume I was recorded in 1977 with Purnama Records in Jakarta and was very successful, reaching the Top 10 chart of Indonesia; one number from the album reached the second spot and another the fifth.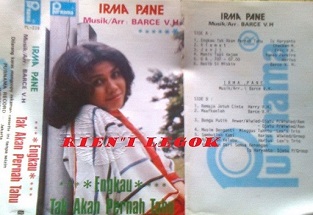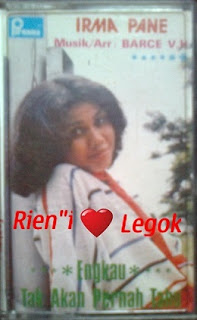 Irma Pane's next album was recorded in 1980 with Purnama Records and also did well.
About "Haruskah":
My new album is now released in the USA, Canada and the Netherlands. ( CD only ). This album makes me feel so proud!. My dreams as an independent artist have finally come true after I'd waited such a long time. I was finally in a position to produce my own album with songs that express my feelings, soul, and musical style. I wrote most of the songs myself and kept my "treasure" until I met my very good friend Dakka Hutagalung again. He is one of the best Indonesian (Batak) songwriters and music directors. We decided to go for it, and headed to the studio. The final mixing was completed in the U.S. While it is much more work, I prefer to do my mixing manually rather than with a computer. I feel computers make the music cold and unreal. Only by listening carefully to the music can one create a harmony of vocals, colors, feeling, and sweetness, and then melt it all together. This is one of the most difficult jobs in the music industry. I was very fortunate to work with the many talented artists and friends who helped create this album.
Special thanks to Dakka Hutagalung, composer and songwriter; Jen Butar Butar, one of the best sax/sophran players from Jakarta; and all the other musicians who made this possible.
We've decided to use the song Haruskah as the cover song and the name for the album Haruskah.
The album is a rare mixture of traditional and modern Indonesian pop music - romantic, sweet, jazzy, and still powerful.
The song tittles on the album:

1. Haruskah (It must be)
2. Kecewa (My heart is broken)
3. Atas nama cinta (In the name of love)
4. Jangan (Don't do it)
5. Oh asmara (Oh my love)
6. Korban cinta (Victim of love)
7. Diatas awan cinta (Love flies above the clouds)
8. Jejaka (Guy)
9. Kaulah hidupku (You are my everything)
10. Manalah mungkin (It's impossible)
Haruskah was recorded in 1996/97 with IPB Disc Recordings
(Irma's own independent Indonesian music label in the USA), and has now been released in the Netherlands and in the USA, and is was released in Jakarta, February 1997. Haruskah was on the U.S. East Coast distributed by IPB Disc, and made the chain stores of "Tower Records" early 1998.
Wordlwide Recordings LTD VANCOUVER, CANADA has chosen the coversong " Haruskah" on their Compulation CD! To purchase the new World Records Ltd. Compilation CDs, Volume I and II, please send your request, along with a cheque for $14.99 U.S. (for one) or $24.99 U.S. (for both) to us at:



Artists:
Abhorrent (Brazilian Heavy Metal)- Intro
Tax Free (french Hard Rock)- Alone on a Bridge
CeLange (Rocking'Blues)- A New Day Comin
The Heritage (Hard Rock)- Rocking Seattle
New Jerusalem (Heavy Metal)- Judgement Day
Seasons of the Wolf (Gothic Metal)- Victim of Darkness
Koark (Grunge Metal) - Mr. Happy
Mr. Shysty (rap)- Reincarnation
C.J.Schuler (English Lyrical Jazz)- Nice Guys
Rare Blend (Guitar Fusion)- Breaking the Sound Barrier
Barry Brooksby (Guitar Fusion)- mneumonic Plague
PTAH (Guitar Fusion)- Come inout of the Rain
John Allen (Jazz)-Disko Kalypso
Cuskapuni (Peruvian)-Rio de Oropeza
Patrick Rose (Portugese /American)- All I Want Tonight is You
Guerman Kornilov (Rusian)- Oh, Melancholy


Irma Pane Own a Legend
Discover our Collections, featuring Hetty Koes Endang, Koes Plus, Iwan Fals and others!

What's That Song?
Got a tune stuck in your head from a commercial, TV show, or film? Don't lose sleep -- find out who sings it.

More Sales & Specials...